TPO Roof
Posted by Khoi Le on Wednesday, November 6, 2019 at 3:49 PM
By Khoi Le / November 6, 2019
Comment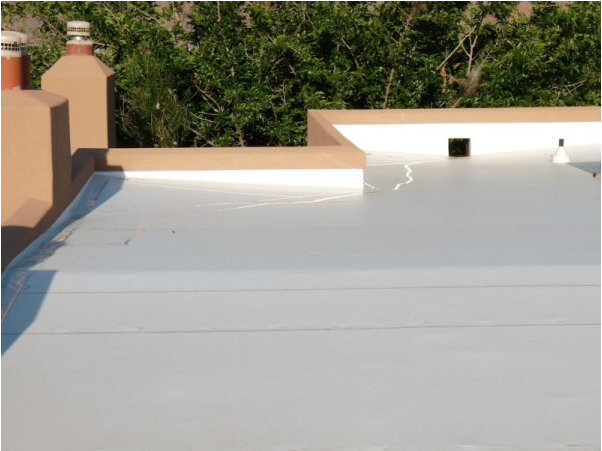 In the real estate world, there are new technologies that come along for construction. One such technology is a TPO roof. Roofers are pushing this type of roof to our sellers and buyers at Hunter Chase Realty for various reasons (discussed below). Some clients in Albuquerque are specifically asking for this type of roof. So is TPO the future of roofing?
TPO stands for thermoplastic polyolefin, a single-ply roofing membrane that covers the surface of the roof. There are two primary categories within the single-ply roofing industry as defined by the National Roofing Contractors Association. There are thermoplastic membranes and thermoset membranes. TPO is part of the thermoplastic membrane category and is one of the fastest growing roof types for flat roofs.
TPO Roofing Pros
TPO roofing is attractive in commercial and residential construction because of its reasonable cost. TPO gives the same benefits as PVC roofing, like hot-air weldable seams and energy efficiency, but a lower cost to protect a building and its contents.
It fits different home styles
Homeowners appreciate the fact that TPO is manufactured to look good on many different home types. TPO is available in white, light-grey and reflective color options. The latest technology enables all of the colors of TPO roofing to be UV resistant and cool. Manufacturer warranties are available for installation up to 30 years.
In comparison to other thermoplastic membranes, TPO resists mold growth, dirt accumulation, tears impact and punctures. It lasts longer than many of the other flat roof systems.
Other Pros include:
Extremely strong seams (which is usually the weakest part of a roofing membrane Made of Puncture-resistant material
Great flexibility even at lower temperatures
Reduces energy costs by reflecting light
Chemical Resistant to many different substances
Better for the Environmentally
TPO Roofing Cons
There's Questionable Longevity
TPO is a young roofing technology. It has been around for around 25 years and manufacturers are still trying to put together the best chemical formula that will make the product durable and long lasting while keeping a competitive price.
It Doesn't stand up well to heat overload.
TPO membranes have been noted to have issues of accelerated wearing when subject to high thermal or solar loading. The problem has been specifically documented in Southern States that get alot heat and sun throughout the year. In Albuquerque, extreme heat is not prolonged.
As we know, Albuquerque's weather can fluctuate multiple times a day. Having a roofing system that safe and sound is of utmost importance for many New Mexican families. Whether it be the monsoon season, hail season, or the winter, we want the families we help to feel safe and secure. The TPO roofing system is one alternative to the flat roof that can provide security for our real estate buyers.

When buying or selling a house, the type of roof can impact the pricing and marketability of the property. Give us a call at Hunter Chase Realty (505-275-1500) and it will be our pleasure to help you make the best real estate decisions.